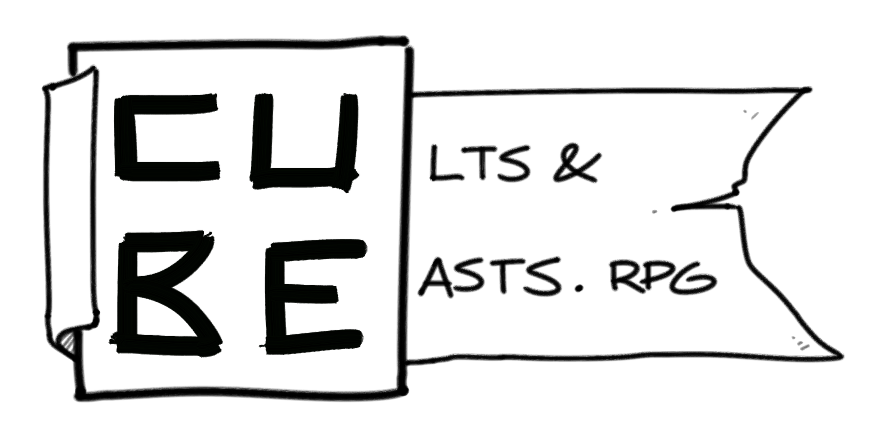 CUBE
Cults and Beasts
■ Tabletop Roleplaying Game
■ One page (print and play)
■ A Rubik Cube
■ No dice
■ Hackable



Character Sheet (Detail)
---

Download, play and review.
Your opinion is most welcome =)
Download
Click download now to get access to the following files:
Comments
Log in with itch.io to leave a comment.
This looks hecking genius and I want to try it immediately. It's so stylish!!
Thank you for your kind words. When you try it, tell me how it went. I struggled a lot to put all the information in one page
Will do! Hey if this is hackable, could we maybe get a creator kit or doc that includes like just the cube itself and the colored stat lines? EDIT: I see them there at the bottom of the description lol
I feel like this system puts a lot of weight on player knowledge/skill, while still being a unique and semi-random core mechanic. I super want to try it, but i wonder if being good at cubing gives you an advantage 🤔
That's an interesting question regarding the mechanics. I cannot assure you 100% that being good at cubing doesn't give you an advantage, but I can assure you that I tried to eliminate that issue (the best I could) with my gamedesign decisions:
1) the cube is always scrambled after each action;
2) the competence (amount of moves you can make) is actually small (3 at best without "help");
3) you only need to care about one face (the challenge one);
For those reasons, I think that knowing how to do the Cube won't help much. Knowing the Rubik solution would help you if you needed all the faces put together and you keep playing with it until the end.
I believe however that being good at spacial awareness could give you some advantage. But only in the beginning - after a few challenges and the help of the party, anyone will get the hang of it (I hope). That advantage is the same you get when you are "creative" and pull out some stunts in your roleplay.
That's a good suggestion: I'll upload a creator kit.

EDIT: check devlog ;)