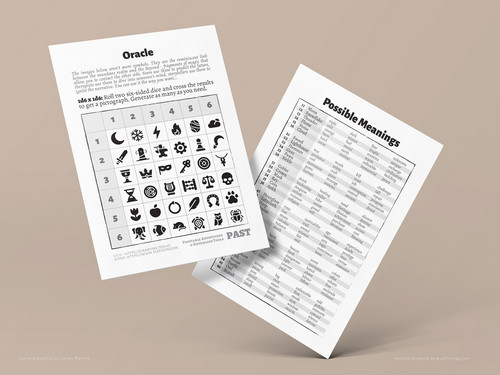 This tool is supposed to be an Oracle - The goal was to create something similar to Lyra's Alethiometer with Tarot's universal symbolism and Story Cubes' simplicity.
In RPG context you can use it as a narrative trigger or just to fill the gaps of your story.
Example:

NPC: The main characters met this person - Tarik. He is *rolls 2 & 5* (Pawn) controlled by someone. And that leads to a question - who's controlling him? Well...*rolls 5 & 3* (Snake) someone very dangerous that only a few know their secret identity (because snakes change their skin).
Interpreting the oracle depends on the one who's reading the symbols. Don't force the results - Possible meanings should came to you naturally, like Magic.
Check out the same example but with other interpretation: Tarik is (Pawn) a manipulative person that likes to be in control . He uses to (Snake) poison their enemies.
---
FAQ:
If there are multiple interpretations, how can I know which one is the right one?
You'll know... when the right time comes.
I feel there are more interpretations beyond the list...
Of course you do. That's because there are. Use them.
---
Credits:

All icons from www.flaticon.com
===============================
Moon icon made by Good Ware;
Snowflake icon made by kmg design;
Thunder icon made by fjstudio;
Flame icon made by freepik;
Stone icon made by freepik;
Cloud icon made by Uniconlabs;
Sword icon made by freepik;
Lighthouse icon made by freepik;
Hammer icon made by freepik;
Gear icon made by freepik;
Pawn icon made by Andrejs Kirma;
Sickle icon made by freepik;
Goblet icon made by freepik;
Crown icon made by freepik;
Mask icon made by Saepul Nahwan;
Key icon made by freepik;
Coin icon made by freepik;
Ankh icon made by freepik;
Hourglass icon made by smashingstocks;
Labyrinth icon made by freepik;
Harp icon made by freepik;
Abacus icon made by freepik;
Scale icon made by Ayub Irawan;
Skull icon made by Andy Horvath;
Flower icon made by Pixel perfect;
Apple icon made by Pixel perfect;
Snake icon made by freepik;
feather icon made by Vitaly Gorbachev;
Horseshoe icon made by Ayub Irawan;
Wolf's paw icon made by freepik;
Elephant icon made by freepik;
Fish icon made by freepik;
Mouse icon made by freepik;
Turtle icon made by freepik;
Owl icon made by freepik;
Scarab icon made by freepik;